Short description:
Edit
Address: 40 S. Main St
Contact person: found through Downtown Dayton Partnership
Second Visit (6th Floor Space Details):
Greg and I went back to get another look at the 6th floor space on Friday 12/3/2010. We discussed how the larger space could be cut down to the 900 sq ft quoted size. We would probably be looking at a space that is 47 ft x 19 ft and would be divided into two rooms (clean and dirty). Best guess is that we would have two 23 ft x 19 ft rooms in the space. We also saw the freight elevator (we would need to make arrangements to use it, but it is available for our use, and a large shared longue that would make a great meeting space during non-office hours. Note, there is a deposit of 1 month's rent due with first month's rent.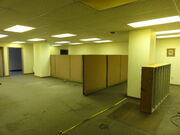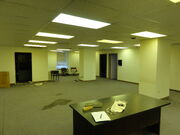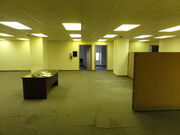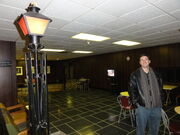 First Impression:
Saw 2 spaces during initial visit. Space 1 is ground floor, street front space. It is 900 sq ft and they are offering it at $600/month on a month-to-month basis. The rent includes all utilities but not janitorial service. It is currently partitioned into a large open space plus 3 small offices. This may be something we could change, but that is not completely clear. The ceilings are somewhat high, and the space is larger than it appears Pictures will be posted below. (19 Fourth Street (15' x 60' = 900 SF) $600 Monthly)
Space 2 is on the 6th floor. It is a very large space (probably over 2000 sq ft) that the property manager is willing to cut down to a 900 sq ft space (at the property's expense, not ours) at the same $600/month month-to-month as the street front space. Again utilities are included but not janitorial. This space has windows (offering both a view of Dayton and an opportunity to create venting if needed). There is a freight elevator so larger item/projects should be able to be brought up. It is also more private, so less foot traffic, but also less of a security concern. The property manager prefers this option, as it would allow us to grow into additional space bu simply moving walls assuming no tenants move in adjacent to us.
Location Evaluation Criteria:
Edit
(priority) Requirement:

Edit

(circle one)

Edit

Comments:

Edit

(6) Utilities included (electricity/water)

yes

no

(6) Climate controll (heat/AC)

yes

(4) Bathroom

yes

no

down the hall

(4) Convenient parking

yes

no

Lots of street side parking, adjacent garage, and next to major bus station

(4) Access, 24/7

yes

no
(priority) Option:

Edit

Subjective (circle one)

Edit

Comments:

Edit

(2) Centrally located (ease of commute)

Yes, very
Good enough
Kind of
Not at all
Pretty good by car, very good by bus

(1) Kitchen area

Yes, very
Good enough
Kind of
Not at all
It it probably possible, but would have to negotiate this separately.

(0) Partitionalbe (clean/messy space)

Yes, very
Good enough
Kind of
Not at all
Property manager is willing to repartition space for our needs

(0) Connectivity potential (internet)

Yes
No
Time Warner and Cinci Belle are options for providers

(0) High cielings

Yes, very
Good enough
Kind of
Not at all
may be able to remove ceiling tiles, need to ask

(0) Big doors

Yes, very
Good enough
Kind of
Not at all
freight elevator and can get property manager to replace single door with double door
Insert pictures here:
Edit
See flyer for generic examples.